Written by: David Dinh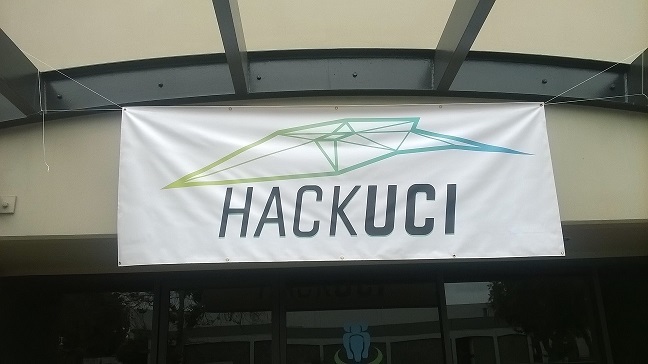 UCI's first annual hackathon was a huge success! HackUCI was hosted at PeopleSpace, where people can collaborate on common interests in computers, technology, science, art, entrepreneurship and start-up business. The small, cozy venue was packed with awesome ideas and much energy during the Memorial Day weekend. HackUCI was so spectacular that some preferred to call it a hack festival!
When the HackUCI opened on Friday evening, buses streamed participants five miles from campus to PeopleSpace. As attendees entered, they were greeted by a live performance from Blake & Kurt. As the event started, hackers had access to everything they needed to work on their project during their stay. There was lots of free food, including muffins and croissants for breakfast, Veggie Grill and Chipotle for lunch, Ray's Pizza and Dos Chinos for dinner, and Domino's Pizza and 85 Degrees for midnight snacks. Caffeine from coffee and energy drinks were, of course, a necessity for those who wanted to stay awake for the entire time.
By far, however, the most popular item among the hackers was none other than UCI's Ring Road specialty: Lollicup Boba! This free drink was probably a first in the history of hackathons judging by the overwhelming response of the participants. Another rare attraction was the dedicated sleeping area located at the back of the venue. Because the area is primarily a martial arts dojo, people were able to rest on the mats. The isolated location and dim lighting made it a better place to sleep than inside the bright and noisy hacking areas.
Last, but not least, there were mentors at the event. Company representatives from Cylance, Infinite Peripherals, Amazon, SendGrid, and Kloudless came to help and answer any questions. It was very inspirational to see that several hacker participants were willing to help out other teams with their projects. The core values of inclusiveness, diversity, innovation, and creativity exhibited by everyone would definitely make HackUCI's hackathon forebearers proud.
In the end, all projects were built from scratch over the 36-hour period. The teams came up with some great hacks, but as the hacking period closed, only a handful of these would come out gloriously on top. One of these teams had created Shark Education, which allowed the player to see through the eyes of a shark with the Oculus Rift. For Legend of Zelda fans, one of the best Twilio hacks was a Hylian Transliterator, which could convert English to any of the several Hylian languages found within the games and vice versa.
With about 300 registrations from all over Orange County, HackUCI was possibly the largest event ever hosted by ICS Clubs. WICS definitely played a large part in this event, as most of the volunteers were WICS members. All in all, it was due to the hard work, commitment, and sacrifice of the volunteers, committee members, and main organizers that such an astounding event was pulled off. I can't wait to see how HackUCI will grow next year!